Storytelling e Storytelling Night
~ Chiara Flora Bassignana
13.04.19 and 16.04.19
Martedì 16 aprile alle ore 21.00 CampoBase ha abbassato le luci e steso i tappeti per una serata di storytelling costruita durante un workshop condotto da
Chiara Flora Bassignana
. L'evento ha incluso la partecipazione di
Fuad Ahmadvand
che ha accompagnato il momento di condivisione con intermezzi musicali.
Lo
storytelling
è il racconto, uno strumento antico e viscerale di costruzione di comunità e condivisione di pratiche e visioni.
Partendo da vissuti ed esperienze personali, il racconto crea le condizioni per la produzione e emersione di significati che dal personale possono assumere valori generali e condivisi.
Aprire e condividere questa tappa del processo di esplorazione e costruzione al pubblico intende ulteriormente promuovere CampoBase come spazio inclusivo, attraverso il ricorso a pratiche discorsive che favoriscano la partecipazione.
//
Tuesday, April 16 at 9 p.m. CampoBase lowered the lights and laid the carpets for a night of storytelling night built during a workshop led by Chiara Flora Bassignana.
The event included the participation of Fuad Ahmadvand who accompanied the sharing process with live music interludes.

Storytelling is the act of narration, an ancient and visceral tool for community building, community engagement and for sharing of practices and visions.
Starting from personal experiences, the narration creates the conditions for the production and emergence of meanings that, stemming from a personal level, can represent general and shared values.


The act of opening and sharing this stage of the exploration and construction process to the public intends to further promote CampoBase as an inclusive space, through the use of discursive practices that encourage participation and involvement.



Curated by: Irene Angenica, Bianca Buccioli, Emanuele Carlenzi, Martina Cavalli, Gabriella Dal Lago, Alice Labor, Ginevra Ludovici, Rachele Palma, Federica Torgano, Stefano Volpato.
Storytelling e Storytelling
Gallery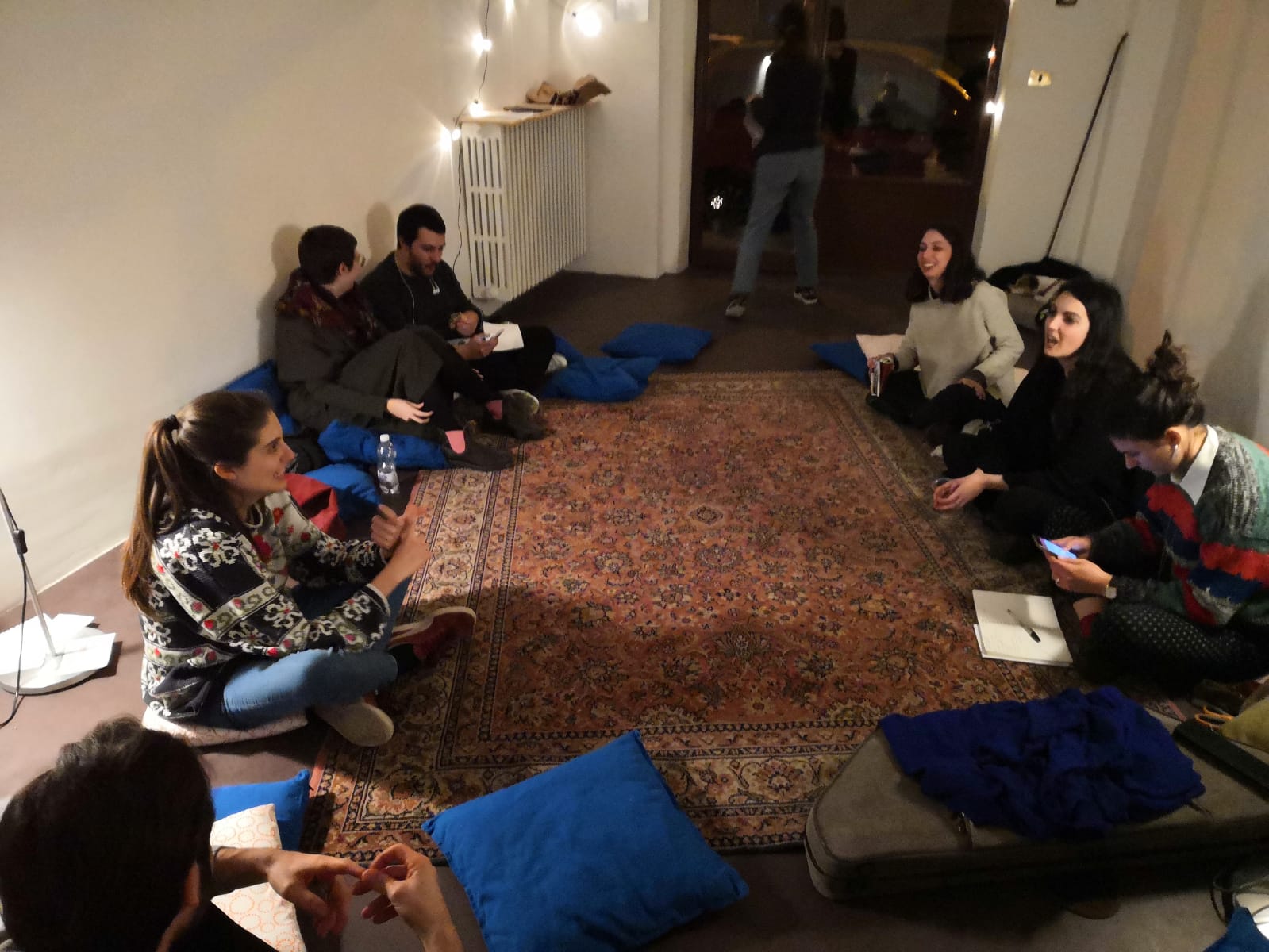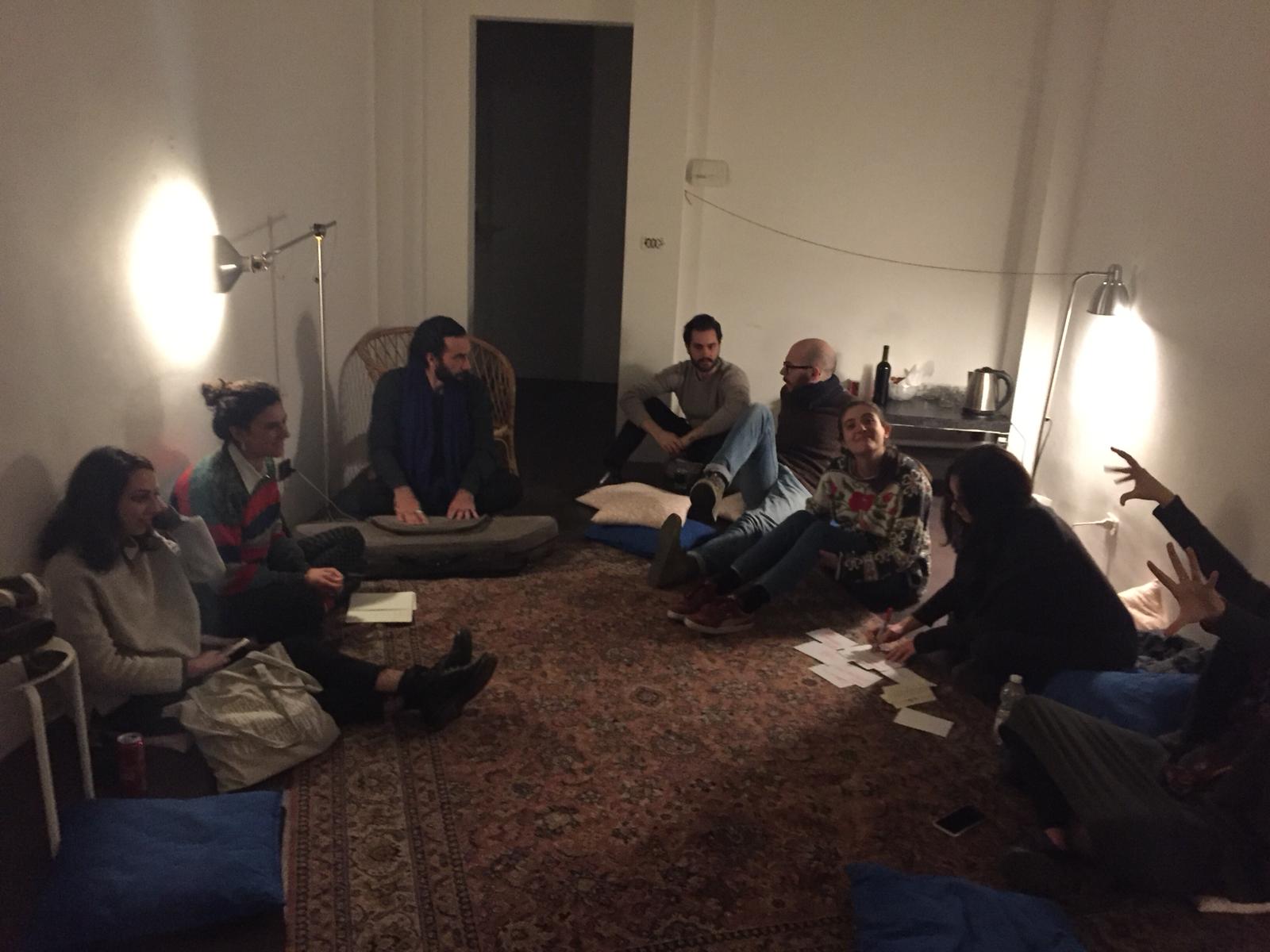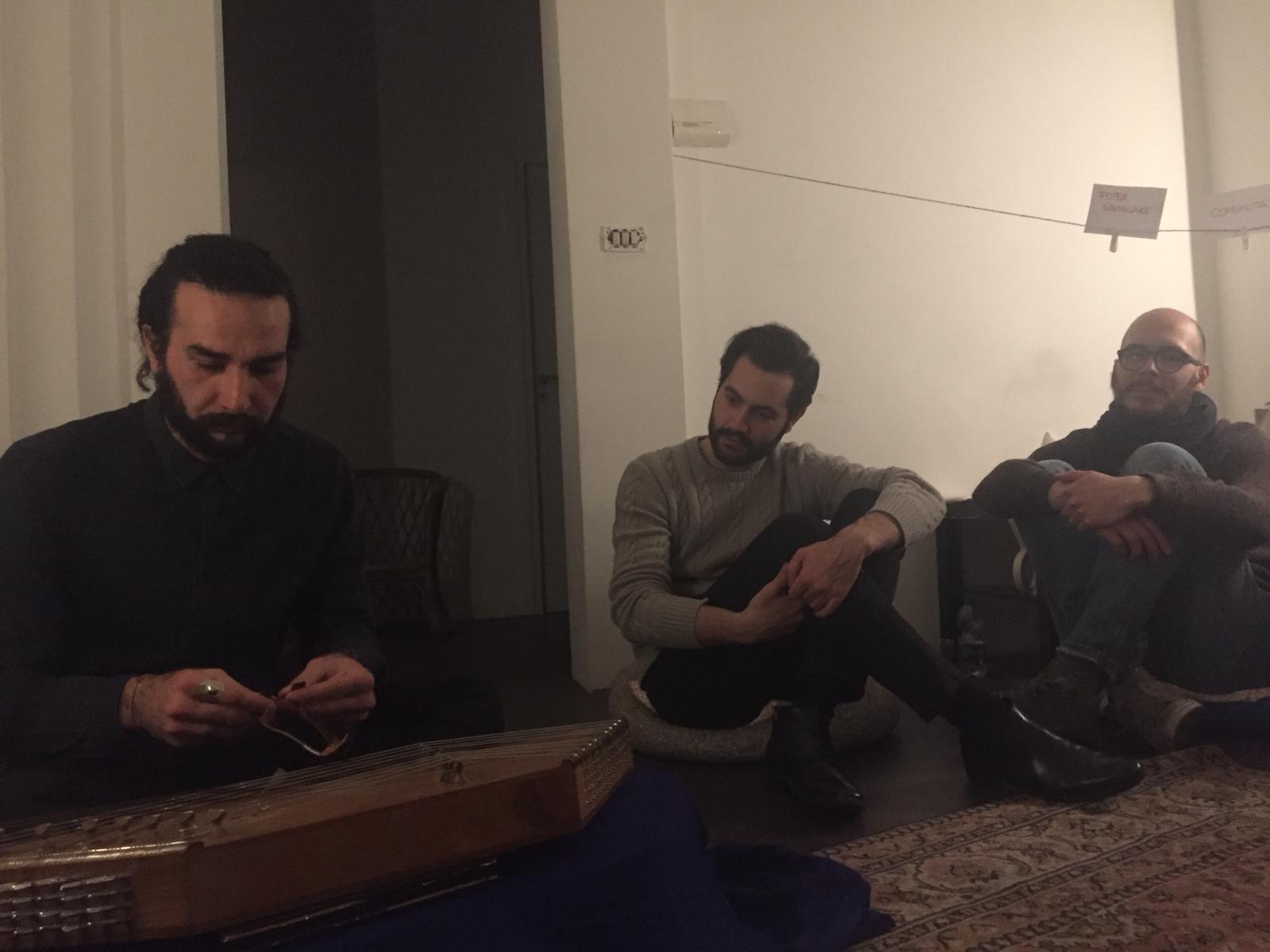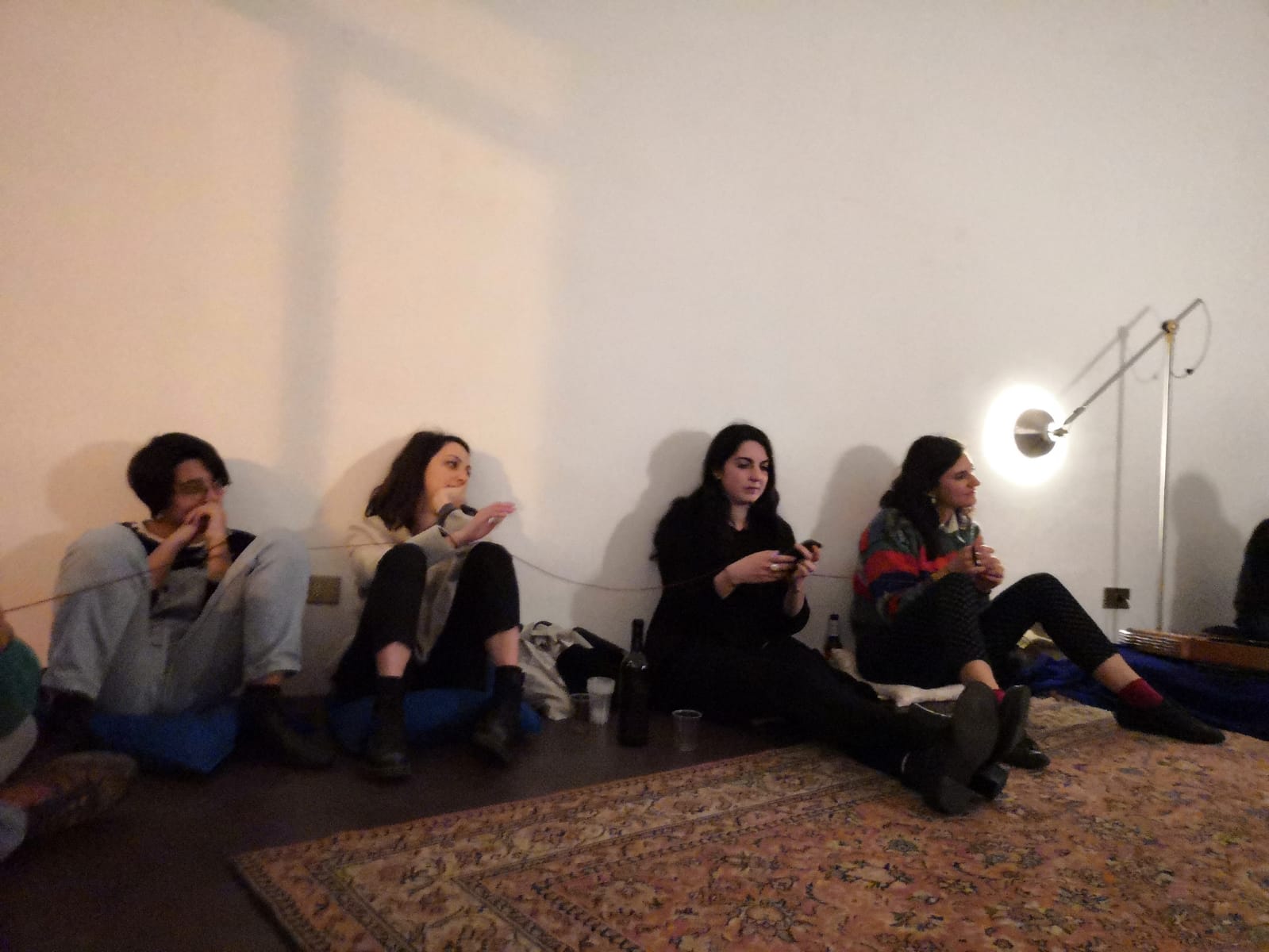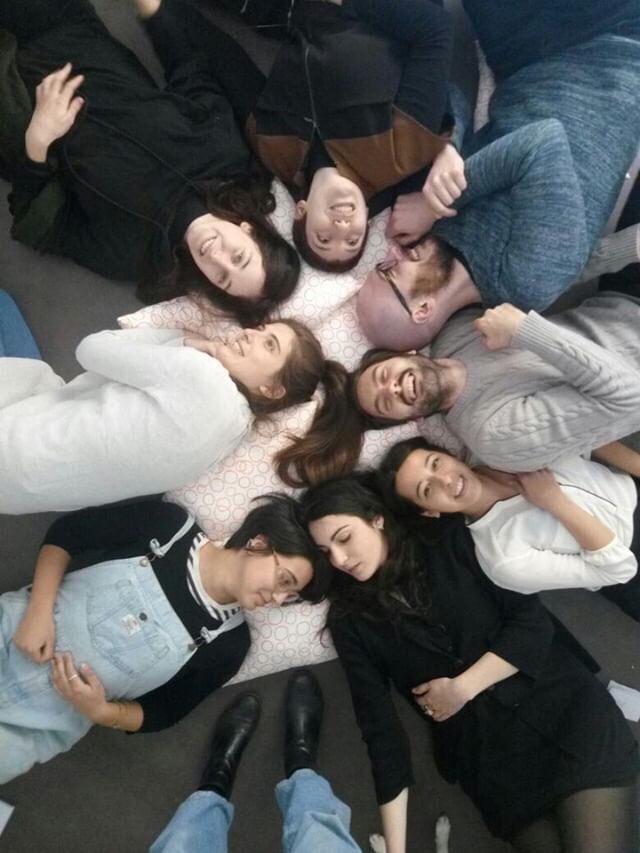 Storytelling e Storytellin
Bio
Chiara Flora Bassignana
, è dottoranda presso l'università di Scienze Gastronomiche di Pollenzo, apicultrice, musicista. Durante un'esperienza di studio e lavoro presso l'Università di Wageningen, in Olanda, ha riscoperto lo storytelling come pratica di dialogo e di costruzione di comunità. Negli ultimi due anni, ha organizzato diversi workshop ed eventi di storytelling tra Italia e Olanda, tra cui quello che ha coinvolto i membri dello Slow Food Youth Network durante la XII edizione di Terra Madre - Salone del Gusto.
//
Chiara Flora Bassignana is a PhD candidate in Gastronomic Sciences at the University of Pollenzo, apiculturist and musician. During a work experience in the city of Wageningen (NL) she has rediscovered the storytelling as a practice of dialogue, community building, instrument for creating empathy and to communicate with people from different contexts and backgrounds. In the last two years she has organized several workshops and events of storytelling as alternative practice to vertical discussion, which relies on the diffusion of a universal knowledge, by experimenting, instead, a sharing experience that focuses on the particular to build up together a vision and a reflection.
Fuad Ahmadvand
è un musicista specializzato nell'uso del santur (salterio a percussione), che ha cominciato a suonare dal 1992 sotto la guida di maestri iraniani. Negli anni ha continuato la sua ricerca nell'ambito della cultura musicale persiana attraverso lo studio del tanbur kurdo (liuto a manico lungo) e del daf (tamburo a cornice). Attualmente è attivo in numerosi progetti musicali, mentre continua a portare avanti la sua personale ricerca sulla connessione tra musica e architettura.
//
Fuad Ahmadvand is an iranian musician, specialized in santur (hammered dulcimer), which he learned playing in 1992, following two iranian masters. Later on, he continued his research into iranian music culture through the study of Kurdish tamboor and of daf (framed drum). He's actually carrying on different musical project, while exploring the connection between music and architecture.